Thanks for visiting our blog hop! I am the...
I've got two great back to school products to tell you about today. The first is my August and September Printable Pack. I know worksheets get a bad rap, but I promise that this is more than just a bunch of worksheets. I know that a paper has to be really worth something in order to spend your precious copy budget on it. I really tried to pack each page with meaningful, engaging, higher level, curriculum related activities. I also combed through the Common Core Standards and marked the ones that apply for each page in grades 1-3. I personally use these packs in my room each month for all kinds of things - morning work, homework, sub plans, when I have coverage for meetings, center activities, early finishers, enrichment, or those times when you just need the kids to work on something together for a few minutes independently because you have some teachery task to finish up ASAP. See - I told you they come in handy! I have them for each month and I seriously use just about every page every month. Click
HERE
to see it on TpT. For $5.25, you can have everything you see below to get the year started off right!
The next goodie I have for you is a freebie you can find on my Facebook page. It's a set of seven exit slip pages. I've been wanting to do exit slips for a while, but the thought of printing, cutting, handing out, collecting, and managing the little slips of paper every day drove me a little nutty. So, I devised a simpler way that eliminates the management nightmare and also gives the kids a choice in what they write about each day. I'm going to give them one exit slip on Monday which they will keep all week, like the one below:
Then at a designated time, the kids will get to choose which part of the slip to fill out that day, with the understanding that by the end of the week each box must be filled out. You can either have them leave them on their desks to peek at after they leave each day, or just collect them all on Friday. I like the idea that the parents will also get an idea of what's going on in our room from their child's perspective. So, to get all 7 different versions of my weekly exit slips, click
HERE
to visit my Facebook page and look for the little tab that looks just like the one you see blow. Click on that and if you already like my page, you'll be able to download the set. If not, just like me and they're all yours!
Thanks so much for stopping by! There's one more stop to go: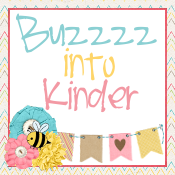 And just in case you want to start the hop from the beginning, just click the button below to visit the most awesome Tamara Russell who put an incredible amount of work into painstakingly organizing this hop! Big smooches to you, Tamara and thank you so much for asking me to join!